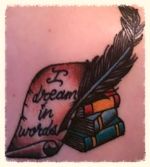 My name is Cassie
If you follow me, I will definitely check your blog out...
...But I will only follow back if I like it
Proud multi-fandomer including The Hunger Games, Dexter, The Mortal Instruments, The Infernal Devices, Supernatural, Doctor Who, and a ton more!
My dream is to be a homicide detective.
Follow me on Twitter @CassieMeno
If you get to know me, you'll see that I'm not who I appear to be
Those who knew me throughout high school probably wouldn't recognize me anymore
God has become a very important part of my life
I'm addicted to coffee...
...probably always will be
Writing is my obsession
I have a book published with Wings ePress
I'm working on getting another published
I have a pet hedgehog named Hazel
I ♥ chocolate...
...A lot
I'm a perfectionist
I've been told I'm a grammar Nazi
I love horror movies and haunted houses
I'm a hopeless romantic
I crave adventure on a daily basis...
...And never seem to get it.